The fifth call for projects opened in November 2012 to finance research with potential therapeutic benefit in sporadic ALS on the following themes:
Biological markers, pathological pathways and mechanisms, therapeutic strategies, innovative molecules in the fields of ALS and protection of motor neurons.
Submission of clinical or patient centric/oriented research projects is particularly encouraged
Selection Process :
By December, 19th, deadline for abstract submission, we received
96 abstracts coming from 14 different countries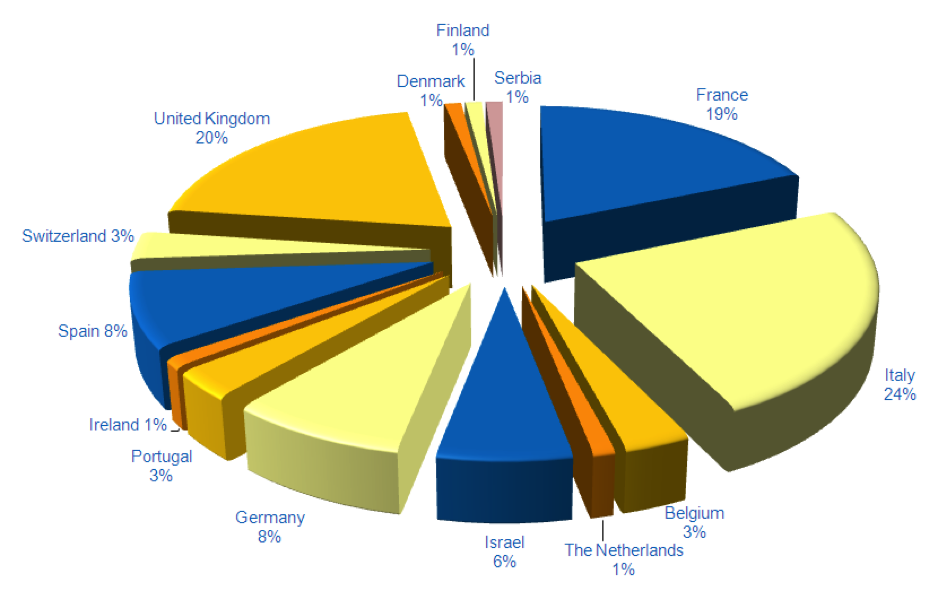 Each Member of the Scientific Advisory Board (SAB), assessed independently the 96 abstracts taking into account their scientific quality and their relevance to the objectives of the Foundation. These assessments have been consolidated and anonymized. A meeting of the Scientific Committee was held in February 2013 for selection, validated the Foundation. 16 projects were selected for complete file. During the process, the members of the Scientific Committee with a conflict of interest did participate neither to assessment nor to discussion.
1. Projet REHNPALS : Role of hnRNP proteins in ALS
Emanuele Buratti (Trieste, Italy)
Duration : 36 months
Grant : 123 000 €
2. Projet ALSIBD : Use of Extended Irish Kindreds to Identify Novel ALS Variants
Orla Hardiman (Dublin, Irland)
Duration : 18 months
Grant : 98 000 €
3. Projet SM-RNA : Structure and small molecule interactions of pathogenic C9orf72 RNA
Adrian Isaacs (London, UK)
Duration : 24 months
Grant: 160 000 €
4. Projet MHCI AND ALS : Role Of The Major Histocompatibility Complex I
(MHC-I) In ALS
Giovanni Nardo (Milano, Italy)
Duration : 24 months
Grant : 120 000 €
5. Projet EphrALS : EphA4 inhibition as a therapeutic strategy for ALS
Philip Van Damme (Leuven, Belgium),
Duration : 36 months
Grant : 210 000 €
6. Projet innateTarget : An innovative clinically applicable CD95L blocking fusion protein to target peripheral inflammatory monocytes in ALS
Jochen Weishaupt (Ulm, Germany),
Duration: 24 months
Grant: 98 500 €