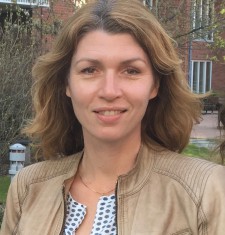 Prof. Eva Hedlund
Prof. Eva Hedlund
is an associate professor of Neurobiology at Karolinska Institutet. Her research lab, located at the Department of Neuroscience focuses on elucidating mechanisms of neuronal vulnerability and resistance with the goal of identifying new molecular targets for the treatment of motor neuron diseases (MNDs).
Eva Hedlund received her PhD from Karolinska Institutet in 2000. Thereafter she conducted postdoctoral research regarding spinal cord development and injury at the University of California Los Angeles, USA. In 2002 she joined the Center for Neuroregeneration Research at Harvard Medical School, MA, USA to work on stem cell therapies for ALS and Parkinson's disease, initially as a postdoctoral fellow and later on as junior faculty. Here, she also initiated her work on understanding mechanisms of differential motor neuron vulnerability in ALS.
She holds several national and international grants, and is a reviewer for > 25 scientific journals and for multiple granting agencies in Europe.
Towards the goal of elucidating mechanisms of differential neuronal susceptibility, her lab utilize laser capture microdissection of distinct motor neuron populations in MND mouse models coupled with RNA sequencing. Motor neuron cultures derived from pluripotent stem cells harboring disease-inducing mutations are used to model MNDs and study neuronal vulnerability and protection in vitro. Finally, candidate gene expression is modulated in vivo in transgenic MND mouse models to induce motor neuron protection and axonal regeneration.