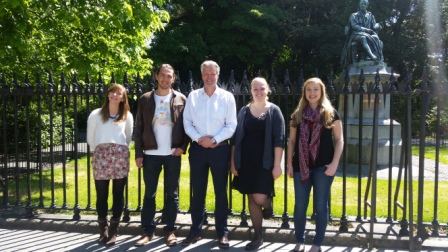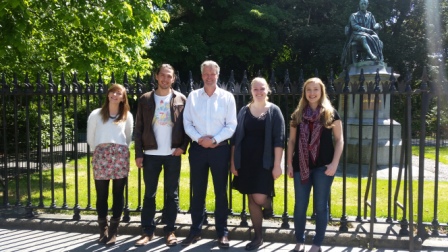 An important result: The ANGIOGENIN project opens the way to a pharmaceutical development of a new treatment.  
The only objective of the Thierry Latran Foundation is to accelerate research to find a treatment. The selected projects must of course meet the scientific criteria of excellence necessary required for a therapeutic development but they must also allow a projection in the search for a treatment.
Since the opening of the 1st Call to Projects in 2009, 37 projects were financed with a total budget of 5, 2 Million. The results of the project Angiogenin, Call for Projects 2012 were presented during the annual meeting of the Foundation the 20 – 21 May in Dublin.
The Foundation is proud to announce that on the basis of found result, the researchers began a collaboration with a pharmaceutical laboratory of international size to continue the development of a molecule. 
Professor Jochen Prehn, investigator principal of the project, Professor of Physiology & Director, Centre for Systems Medicine in the Physiology & Medical Physics Department at the Royal College of Surgeons in Ireland. Present the results
The objective of our project 'ANGIOGENIN' funded by the Thierry Lathran Foundation was to understand the biological role of angiogenin in the protection of motoneurons in ALS.  An earlier study from our institution published in Nature Genetics identified mutations in a gene encoding for angiogenin in familial and apparently sporadic ALS patients [1]. Several independent genetic studies have subsequently confirmed that mutations in angiogenin are associated with ALS and progressive muscular atrophy [2-6], and recently, Parkinson's disease [7, 8]. Previous research in our laboratory has identified angiogenin to be a protective factor for motoneurons in vitro and in animal models of ALS in vivo [9,10]. The research funded by the Thierry Latran Foundation enabled us to demonstrate that angiogenin is a stress-induced survival factor released from motoneurons to act on other cell types in the spinal cord (astrocytes) to boost motoneuron survival [11]. Furthermore, we could demonstrate that angiogenin also increases vessel density in the diseased spinal cord in a preclinical model of ALS. Angiogenin therefore targets multiple cell types to improve motoneuron survival.  We are now are continuing to develop and improve technologies for the delivery of angiogenin protein or a variant thereof to therapeutically modulate angiogenin levels in the spinal cord, and to delay disease progression and increase survival. In collaboration with a major multi-national pharmaceutical company, we now fully exploit the therapeutic potential of angiogenin protein delivery methods in preclinical mouse models of ALS (including SOD1G93A, TDP-43A315T or FUS(1-359) mouse models). These studies will be performed according to international guidelines for preclinical assessment of ALS therapeutics [12], and include early PK/PD, toxicology and biomarker development work in an attempt to accelerate the translation of our research findings into to early clinical trials. If this collaboration continues to be successful, our research that was generously supported by the Thierry Latran Foundation may deliver a new therapeutic that will delay disease onset, improve motor function and increase patients' lifespan leading to an increase in quality of life.
References:
Greenway, M.J., et al., ANG mutations segregate with familial and 'sporadic' amyotrophic lateral sclerosis. Nature genetics, 2006. 38(4): p. 411-3.
Wu, D., et al., Angiogenin loss-of-function mutations in amyotrophic lateral sclerosis. Annals of neurology, 2007. 62(6): p. 609-17.
Gellera, C., et al., Identification of new ANG gene mutations in a large cohort of Italian patients with amyotrophic lateral sclerosis. Neurogenetics, 2008. 9(1): p. 33-40.
Fernandez-Santiago, R., et al., Identification of novel Angiogenin (ANG) gene missense variants in German patients with amyotrophic lateral sclerosis. Journal of neurology, 2009. 256(8): p. 1337-42.
Brown, J.A., et al., SOD1, ANG, TARDBP and FUS mutations in amyotrophic lateral sclerosis: a United States clinical testing lab experience. Amyotrophic lateral sclerosis : official publication of the World Federation of Neurology Research Group on Motor Neuron Diseases, 2012. 13(2): p. 217-22.
van Blitterswijk, M., et al., Genetic overlap between apparently sporadic motor neuron diseases. PloS one, 2012. 7(11): p. e48983.
van Es, M.A., et al., Angiogenin variants in Parkinson disease and amyotrophic lateral sclerosis. Annals of neurology, 2011. 70(6): p. 964-73.
Rayaprolu, S., et al., Angiogenin variation and Parkinson disease. Annals of neurology, 2012. 71(5): p. 725-7; author reply 727-8.
Kieran, D., et al., Control of motoneuron survival by angiogenin. The Journal of neuroscience : the official journal of the Society for Neuroscience, 2008. 28(52): p. 14056-61.